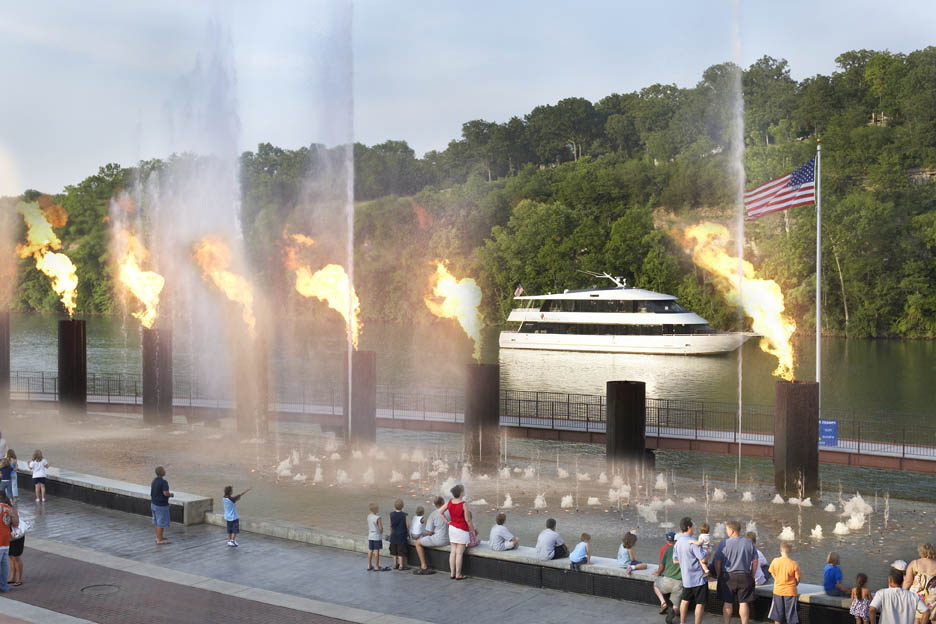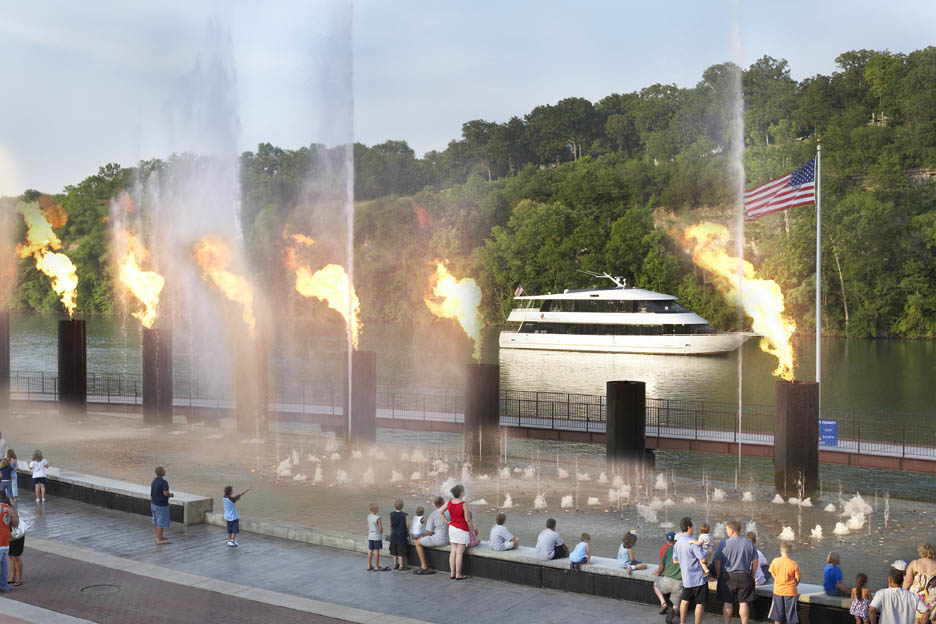 Branson Landing offers one of the most distinctive attractions in Branson, Missouri. Main Street Marina and Main Street Lake Cruises give you the opportunity to make the most of this spectacular attraction with our Branson Landing cruise dinners and event packages. Whether you're looking to celebrate a wedding, a military reunion, a birthday, an anniversary, or just make the most of your trip to Branson, a Branson Landing dinner cruise is the way to do it!
What Is Branson Landing?
Branson Landing is a one of the biggest and best destinations for sightseeing and shopping in Branson, Missouri. Almost everyone who visits Branson will spend some time at the Landing, enjoying lake views, shopping and taking in amazing light and water displays.
In fact, it's these displays that really bring the crowds to the Landing. Combining immense towers of water from spectacular geysers with fire, lights and music, the Landing offers up a truly dazzling display. Air and fire cannons, light displays, and music are all choreographed and synchronized to captivate the crowds both onshore and on the lake.
Watch from one of our luxurious yachts on your dinner cruise as Branson puts on one of its biggest and best shows.
How Frequent Are The Fountain Shows?
Shows take place hourly Monday through Sunday, and special performances of the Star Spangled Banner take place on specific days and times. Please be aware that shows can depend on the weather during certain seasons, so keep this in mind when booking your cruise. Cancellations due to severe weather are occasionally made for the safety of the audience and the upkeep of the fountains themselves.
The fountain show schedule is currently:
Monday through Sunday
Top of the hour shows beginning at noon through to 10pm
Two show presentations at 7pm.
Special Performances of The Star Spangled Banner:
Sunday – Thursday: noon and 8pm
Friday and Saturday: noon and 9pm.
Take a look at our online calendar to see available dates for dinner cruises with Main Street Lake Cruises. Book your cruise in advance to make sure you don't miss out on this spectacular show.
Book Your Branson Landing Dinner Cruise
If this sounds like something you, your family or your guests just can't miss, contact Main Street Marina or Main Street Lake Cruises and book your cruise today. For pricing and availability of private events, call us on 417-239-3980 or 877-38-BOATS (877-382-6287) or email us.