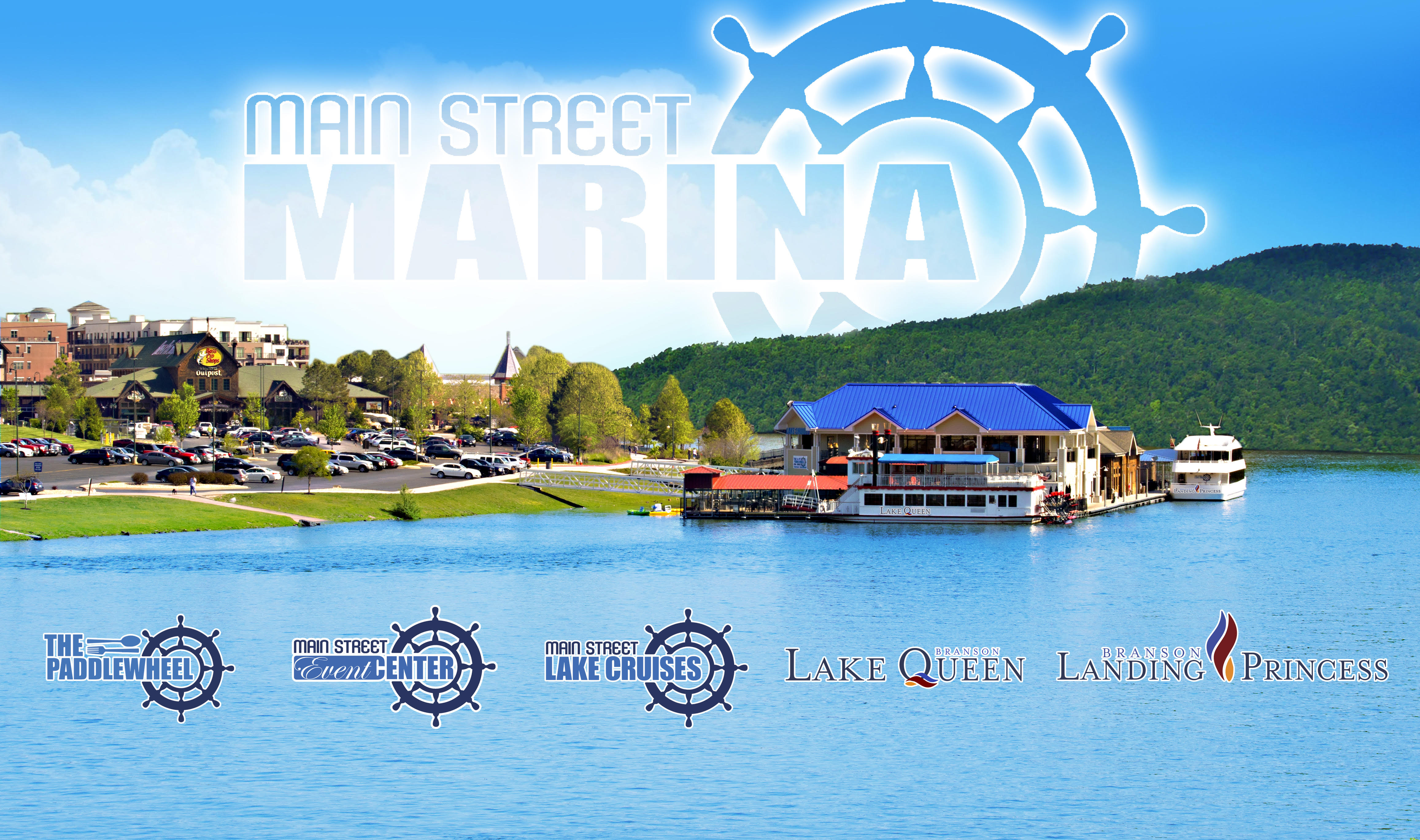 Main Street Marina, Main Street Lake Cruises and The Paddlewheel offer a range of relaxing, luxurious and memorable experiences during your stay in Branson, Missouri. On this page, you'll find a gallery of images from Main Street Marina to show you just what you've been missing.
Click the images below for a closer look, or take a look at the Main Street Marina, Main Street Lake Cruises or The Paddlewheel pages to get the full description on what we have to offer. Planning your next vacation or looking for the perfect wedding venue? We can help!
Weddings, Corporate Events, Military Reunions and More
If you're looking for a picturesque backdrop for your special event, then a Branson lake cruise is exactly what you're looking for. Imagine holding your wedding on a luxury yacht as you cruise along Lake Taneycomo with all the modern comforts. Find out more about the Landing Princess.
If you prefer classic vintage style for your wedding, choose our historic paddleboat the Lake Queen for an authentic experience without sacrificing modern design and amenities. You'll enjoy wedding pictures like no other, and your guests will have an unforgettable experience.
Need somewhere to hold an important corporate event? Perhaps you need a venue for team-building or your office Christmas party? Main Street Marina offers the perfect venue. Our 100-foot modern yacht has the tasteful and chic decor you want for a business event, surrounded by the beautiful banks of Lake Taneycomo.
We can also offer everything you need for a military reunion, convention group event, or sightseeing tours for your vacation. Main Street Marina offers plenty of options for catering and various other event services. Just to talk to our team about what you need.
Do You Have Pictures You Want Us to Use?
Take a look at the pictures below to see just how beautiful the Branson area and the banks of Lake Taneycomo can be. Have you been on one of our cruises and have a few pictures? Get in touch with us below if you'd like us to add your pictures to the gallery. We welcome anything from beautiful wedding pictures to pictures of group outings and sightseeing, and even some of the local Branson wildlife!
Contact Main Street Marina Today
If you're convinced by the photos you've seen here, then contact us about your Branson cruise package. You can find more information on the Main Street Marina, Main Street Lake Cruises, or The Paddlewheel web pages. For pricing and availability of private events, call us on 417-239-3980 or 877-38-BOATS (877-382-6287) or send us an email.